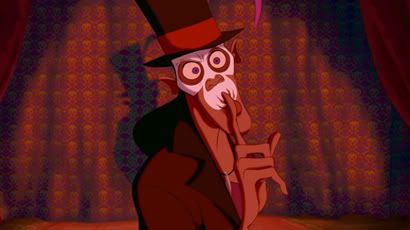 "I told the Witch Doctor I was in love with you,
and then the Witch Doctor he told me to Shhh!!!"
If you're any sort of fan of the animated series Gargoyles, then you should be able to easily recognize the voice of Keith David, the voice of Goliath. If not, here's a hint on other works of his: The alien Arbitor from Halo 2 & Halo 3 video games, the voice of Spawn from the Spawn TV series or even the voice over on the US Navy commercials. Is he starting to sound familiar now?
So, what's this about Keith David…and being a Disney Villain? This winter (December 11th), Disney is planning to release its 49th animated feature: The Princess and the Frog
With Disney finally going BACK to their 2d animation origins (THANKYOU Ed Catmull & John Lasseter!), adding a dash of fun musical melodies, and topping it all off with the concept of setting a fairy tale down south in the middle of New Orleans' French Quarter, I am personally absolutely on edge in anticipation to watch this movie. The movie also features Disney's first African American princess. Although, I don't recall there being any royalty in New Orleans when I took Louisiana History class in 8th grade? But, I think I can overlook a 'technicality' like that.
So where does Keith fit in? Keith David will be adding his vocale talents to a already talented cast as the voodoo/witch doctor, Dr. Facilier. He's our main villain who apparently started this whole mess by turning the Prince Naveen into a frog. (Although by how Naveen talks in the trailer, it seems like he was asking for it – in the traditional "I'm an overly spoiled prince who doesn't know how well I have it!" XD)
But with this classic story, there's a very unique twist – if you haven't expected one already! I will let you see the trailer to find out for yourself what that is! While Keith's character does not have any speaking lines in the recently released trailer, his characteristic evil laughter can be heard for a second or two, making  the prospect of him being this movie's villain is just too exciting!
Keith David isn't the only Gargoyles cast member to lend his voice to the production, Jim Cummings – who is in some way involved in practically EVERY corner of the voice acting arena – is adding his talents as Ray, a hopeless romantic firefly. (Ray is featured in this early teaser trailer for the movie). Jim Cummings was the voice of Dingo in the Gargoyles series – just in case fans may have forgotten!

The Princess and the Frog is based on Ed Baker's children's book The Frog Princess.
It is good to see that Keith is keeping himself busy, as he seems to be in high demand these days. Earlier this year we were graced with Keith's voice in the 3D animated picture Coraline as Coraline's feline companion: The Cat. With no sign of stopping, who knows where we shall hear him next!
Quick Addition: The Inside Line with Ron (Clements) & John (Musker) with more dialogue and footage of Keith's character plus information on other characters in the movie.